Swimming Pool
Plunge into Galaxy's Refreshing Oasis, Heraklion's Most Sizable Freshwater Pool
Dip in to revive your senses or spend the day lounging.
From early morning workout laps to all-day chill with sophisticated poolside services and lavish amenities, our 225m2 pool offers you idyllic respite.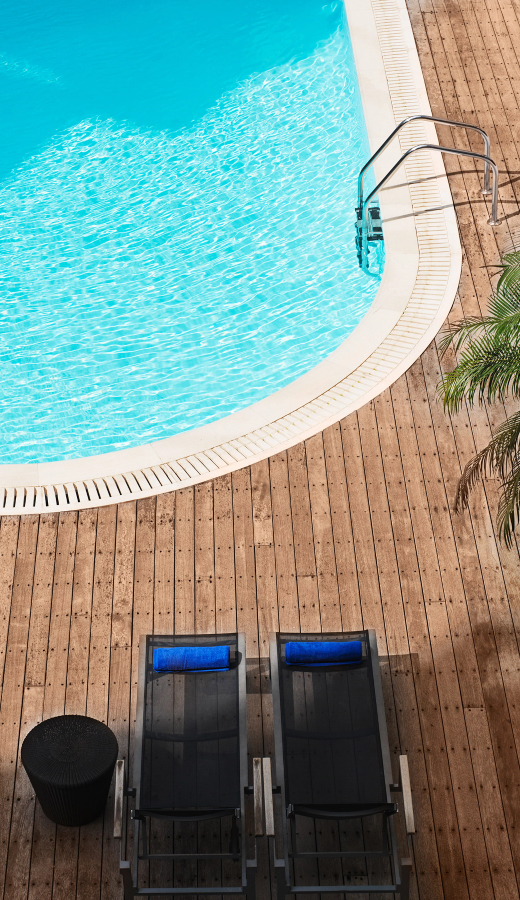 Get a jump on your day
Surrounded by greenery and flowers, our sapphire blue, freshwater swimming pool is the ideal spot for guests and outside visitors to spend time indulging in true relaxation. It is framed by a wooden pool deck that is furnished with comfortable and stylish sunbeds & umbrellas. The hotel provides the highest quality of fluffy, pure-cotton towels that serve to make the Galaxy pool experience even more luxurious.
The pool is ideal from early morning, when you can enjoy a hearty breakfast there, to night-time, savouring a delectable al fresco dinner under the stars with the magnificently lit-up pool in full view. Throughout the day, pool guests are served delicious and freshly made snacks, light meals and drinks inspired by Cretan flavours and aromas or international cuisines.
With a natural filtering system that ensures that the hotel adheres to the highest health and safety standards, and consistently sterilized loungers and other accessories, you never need to worry about hygiene.
Especially striking because of its beauty and size, the hotel pool is an all-day hot spot ideal for social or professional coffee, lunch or drinks meetings. It can also be ingeniously combined with some of the hotel's function areas for larger events such as weddings or other celebrations, as well as conferences, adding an alluring and refreshing dimension to any event.